At Signature Builders, we know that life happens outdoors and at the very place you call home. For this reason, creating outdoor home spaces that encourage more life to happen—beautifully and seamlessly—is our goal.
Garages are a part of that because they are structures constructed outside of your home that can be so many different kinds of spaces for your family…all while adding an upscale feel to your property:
With a workspace for family DIY projects, bond with your loved ones over everything from building birdhouses to crafting holiday decorations.
More open space for equipment and gear storage means you can readily embark on seasonal adventures without the hassle of digging through cluttered closets.
If you need more space for family and friends to stay while visiting, you can create a multi-floor garage with extra rooms.
By keeping your vehicles safe, your car, motorcycle, boat, or tractor, will always be ready for adventures or yard maintenance.
And that's just the start of what a garage can be for your family. If you're ready to add a garage to your home, you're probably wondering how to go about it. There are several different ways, including getting a garage custom-built or purchasing a premade garage. Your options, therefore, include prefabricated garages, garage kits, and custom constructions. In this article, we'll discuss prefab garages as one popular option, and we'll go through the pros and cons of choosing a prefab garage.
Get a garage that fits your family's passions and needs while perfectly matching your home's aesthetic. Contact our team today to build your custom garage.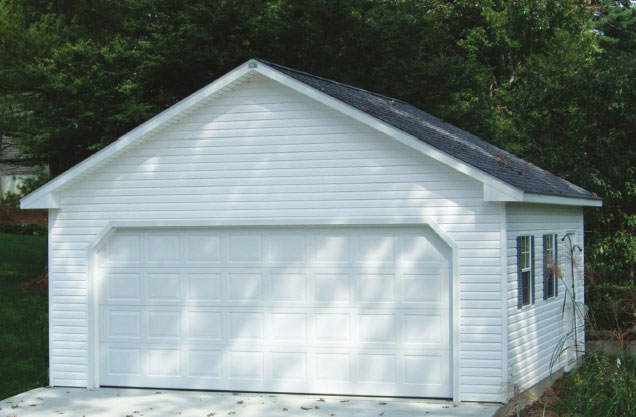 While pre-fab garages are previously designed and built in bulk, Signature Builders designs and builds custom garages just for you with high-quality materials and superior workmanship—creating an original look and feel that instantly upgrades your home.
What is a Prefab Garage?
Prefab garages are pre-constructed garages that arrive at your home either as one whole finished product or multiple "modules" to be put together on the site.
"Modular," "portable," and "prefab" garages all refer to the same concept: they are garages built offsite and can be installed quickly at your desired location.
The Pros of Prefab Garages
Below are the main positive reasons for purchasing a prefabricated garage over a kit or traditional custom build.
They cost less than a traditional build. Given that prefab garages don't require a team to design the build for you or a construction team to come out to your property, they usually cost less than constructed garages.

Prefab garages are up and ready quickly. Prefab garages are assembled off-site, where the construction team already has the design pre-established and their tools and materials readily available. And in many cases, the build is already complete, the company just needs to ship it to your home and quickly assemble it upon arrival. This cuts down the production and assembly time compared to a traditional build.

There are many design options to choose from. Typically, you can find many different designs and material selections with a portable garage, unlike a garage kit, which is usually made of metal. While you won't get as many customizations as a traditional build, you'll still be able to find an attractive look and feel for your home.

Prefabricated garages are usually not permanent. Since prefab garages do not utilize concrete foundations, they are detached structures. If you move, you can possibly bring your garage to your new place. And if you want to upgrade your garage and build a completely new one, you have the option of selling your prefabricated one. Additionally, since prefab garages are not considered permanent, you may not need a permit or to pay property taxes on it. However, regulations vary from location to location and may also change depending on the size of your modular garage. Always research building codes prior to getting your prefab garage.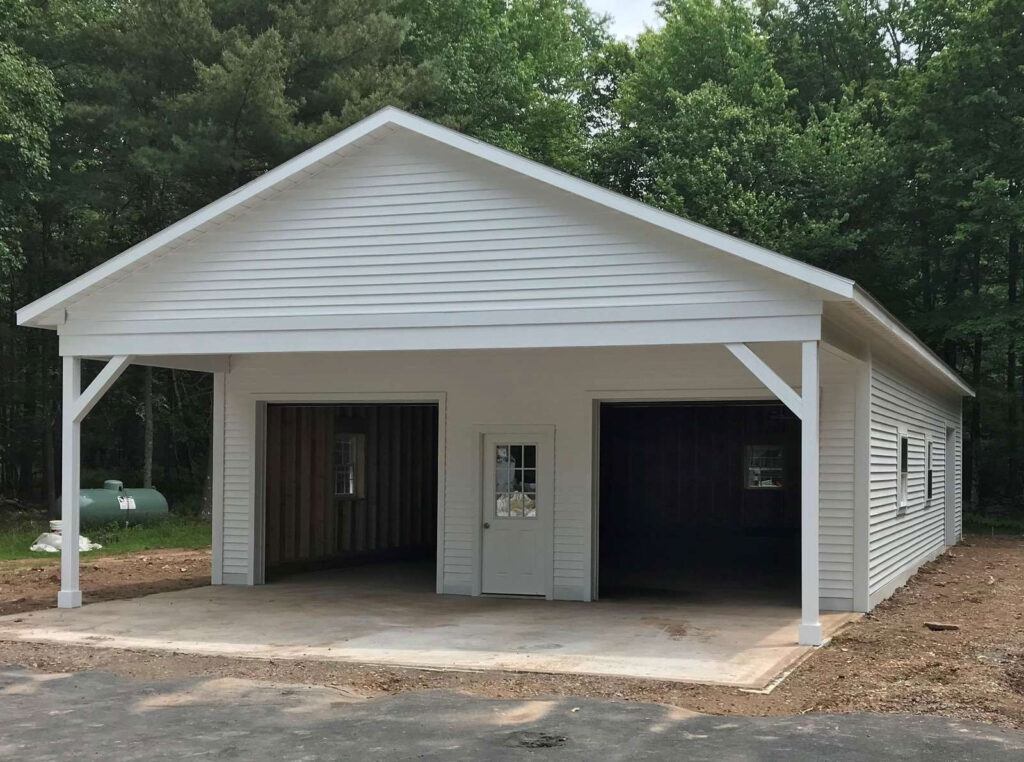 When you work with Signature Builders to build your garage, we take care of all the details. That means you don't need to spend time researching rules and regulations. Let us completely prepare, design, and build a beautiful garage for your family that will last for years to come.

The Cons of Prefab Garages
While there are many pros to going with a prefab garage, there is one major downside to consider.
You have to determine your property's limitations and local regulations on your own. There are many critical details to figure out before purchasing your prefab garage. Otherwise, you may run into obstacles down the line. You'll need to understand local rules and regulations, including any homeowners association restrictions, before choosing your modular garage and its intended location on your property. In addition, you will have to ensure that your property can support a prefab garage. By going with a construction company, they will do all of this upfront work for you, ensuring your build is up to code and that it can be placed safely on your property.
Prefabricated garages may be the right option for you due to their affordability, speed, and impermanence. However, if you're seeking a garage that's as sturdy, beautiful, and detailed as your very home, a traditional custom build may be what you're looking for.
At Signature Builders, we're not just an outdoor structure-building company. We're a team of people dedicated to helping families grow closer and experience more joy through spaces designed to promote fun and build up your family.
Let us create the perfect garage for you, one that's designed to support your family's passions, pursuits, and needs—while looking stunning on your property
Committed to biblical principles and the Amish tradition of true craftsmanship, Signature Builders is ready to build your dream garage with the reliability and attention to detail you deserve.
Ready to create a garage that's perfect for your home and family? Get in touch with us today.